Thanksgiving is here! I know we all have so much to be thankful for. I hope that everyone gets to enjoy some family time and relax! Break is Monday Nov. 19th thru Friday Nov 23rd. School resumes on Monday, November 26th.
If you get a moment this holiday break, think about sending a thank you email to a teacher on the NESA or LEE campus that has gone above and beyond for your son or daughter. We are all in it for the kids and sometimes teachers need to hear appreciation to refresh their spirits!
When we return from Thanksgiving break we will go right into Steppin' Into the Holidays!
The dance holiday performance will run Nov. 30th– Dec. 2nd. Tickets are on sale now! Go to www.seatyourself.biz/nesa and get them while you can. These shows will sell out!
Exam exemptions are due Dec. 5th without exception. Exemption forms are available in the main office but will also be available online. Students will need teacher and parent signatures prior to submitting in person in the LEE Main Office by the deadline of December 5th.
And we have a new club at NESA- NESA Nomads– check out the attached flyer if your student is interested in travel with the school!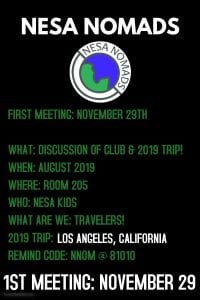 I am going to end my weekly update tonight with a quote:
"Gratitude unlocks the fullness of life. It turns what we have into enough, and more. It turns denial into acceptance, chaos to order, confusion to clarity. It can turn a meal into a feast, a house into a home, a stranger into a friend. Gratitude makes sense of our past, brings peace for today and creates a vision for tomorrow."– Melody Beattie
I am grateful for the NESA community!
Have a great break!
-Sarah Pagona
Director of the North East School of the Arts